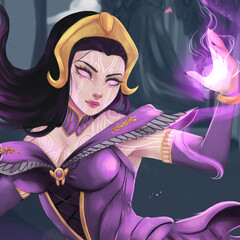 Brittni Jensen
Self taught and looking for work
Tulsa, Oklahoma, United States
Summary
I am a 21 year old 'artist' from Waterloo Iowa.
I started drawing around 8 years old when I discovered "Teen Titans" and I have not stopped drawing since. About 8 years ago I started dabbling in digital art, using Sai and my bamboo 'fun' small tablet. Ever since then I really have a passion for digital art work and want to grow as an artist every day.
My main programs are Paint Tool Sai and Photoshop, my tablet is a cintiq 27hd.
Skills
Concept Art
Concept Design
3D Modeling
characters
2D
Digital art
3D
figures
people
Software proficiency